Clay County's and 38th District State Representative Kelly Keisling was recognized by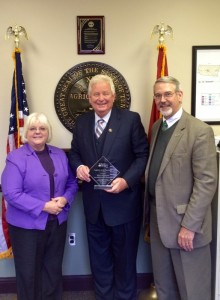 the Rural Health Association of Tennessee (RHAT) for his support in improving the health of rural Tennesseans. Sandy Hayes, Executive Director, and Bill Dobbins, Grassroots Advocate, presented Representative Keisling the RHAT's Legislator of the Year Award on recently at his legislative office in Nashville. The award was announced at the Association's annual meeting in November at Pigeon Forge.
Representative Keisling was specifically recognized for his work in sponsoring legislation requiring reimbursement by all insurance companies in Tennessee for telemedicine services. Telemedicine is the delivery of healthcare services to patients via electronic information and telecommunications technology, and is a big boon for rural patients.
Representative Keisling's district includes Clay, Macon, Pickett, Scott and part of Fentress Counties.
RHAT is a not-for-profit organization of more than 900 individuals and organizations committed to improving the health of rural Tennesseans by providing leadership on rural issues through advocacy, communication, education and legislation. The organization was formed in 1994 when Tennessee's rural health leaders agreed that there was a need to develop a statewide grassroots organization that would give exclusive attention to rural health issues and speak with a strong, unified voice. The vision of RHAT is to effect a positive change in the health and well being of all rural people in Tennessee through the proactive involvement of members, other organizations and policymakers in identifying and resolving rural health care concerns.