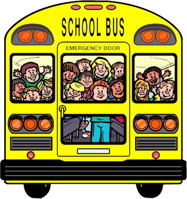 As school starts this year not only do the students need to know the school bus safety rules motorists must not forget to follow the safe road rules involving school buses.  
School begins in Clay County Monday, August, 3 with registration at all school buildings and the first full day of classes will follow on Thursday, August 6.  Help keep our children and bus drivers safe by watching the flashing warning lights both on school buses and at school zones. 
While school buses are the safest way to get to school, one of the greatest hazards comes from motorists who do not observe the school bus stop law.  
School bus safety rules for motorists
Motorists must learn the "flashing signal light system" that school bus drivers use to alert motorists that they are going to stop to load or unload students:
Yellow flashing lights indicate the bus is preparing to stop to load or unload children. 
Motorists should slow down and prepare to stop their vehicles. 
Red flashing lights and extended stop arm indicate that the bus has stopped and that   children are getting on or off. Motorists must stop their cars and wait until the red flashing lights are turned off, the stop arm is withdrawn, and the bus begins moving before they start driving again. 
Motorists should also observe the following traffic safety rules:
• When driving in neighborhoods and especially in school zones, watch out for young people who may be thinking about getting to school, but may not be thinking about getting there safely.
• Slow Down. Watch for children walking in the street, especially where there are no sidewalks. Watch for children playing and gathering near bus stops.
• Be Alert and ready to stop. Children arriving late for the bus may dart into the street without looking for traffic.
• In general, children should understand that riding on the bus is a privilege, that the bus is an extension of school, and they are expected to behave as well as they would in their classroom.
School bus safety rules for students
On the way to the bus:
• Be alert, arrive at your stop at least five minutes early.
• Always obey all traffic lights and signals.
• When crossing streets, always cross at crosswalks and intersections.
• Look both ways before crossing the street.
At the bus stop:
• Stand back from the curb.
• Don't push or shove when entering or exiting and always use the steps and hand rail.
• Always obey the bus driver and wait for the driver's signal before crossing.
• Always cross at least 10 feet in front of the school bus.
• Never, never crawl under the bus.
When riding the bus:
• Take your seat quietly and quickly, remain seated when the bus is moving and don't get out of your seat when the bus is moving.
• Keep your feet on the floor and never ever extend your hands, arms, head or any object out the window of a bus.
• Talk in a quiet voice, be courteous to the driver and schoolmates, and try not to distract the driver through misbehavior.
School bus drivers have as their ultimate goal the safe transportation of all our Clay County Students.  Please do your part as a parent and a motorist to help each driver accomplish their safety goal for this school year.  Should you have questions regarding your child's bus route or ride to school please contact Jerry Strong, Supervisor of School Transportation, at 243-5514.