CELINA-Local military mother Susan Bailey's effort to send care packages to deployed soldiers has seen its share of community support since the HORIZON first broke the story late last month, but she may soon see an outreach explosion now that the news has been broadcast via television all over the mid-state.
Nashville's WSMV Channel 4 paid Bailey a visit last week and ran a story featuring her CARDS (Care About Recently Deployed Soldiers) Care Package Campaign on the evening news.
She was interviewed by Channel 4 news reporter Anne McCloy and Bailey's family also took part in the broadcast.
See this story the WSMV Channel 4 video here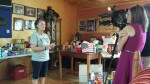 .
For more information about the Baileys' effort or to add a soldier's name to the mailing list, call 931-260-8320 or 931-243-3661.