Hiring saga is finally over after
another eventful board meeting
By THOMAS P. WEAVER
HORIZON Editor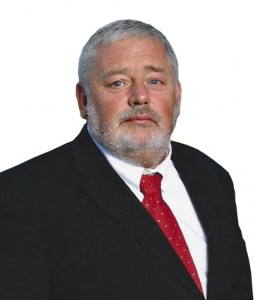 CELINA-Months of debate, interview sessions, and dead-end voting ended here last Thursday night as the winner of the race to replace retiring Clay County Schools Director Donnie Cherry was named.
Jerry Strong will take the reins as the leader of education here on July 1 after an eventful meeting ended the saga with the 20-year system veteran receiving enough votes to be hired as the new director.
"It's a big relief," Strong said after the meeting when asked how it felt to have the long process over. "I really didn't think it was going to happen, but I'm thankful to have the opportunity."
"We have a divided (school) board, but now we need to find a way to unite and make the education of our children our top goal… one of my missions going into this was to constantly communicate with the board, personnel, and the community, and by doing so I think we will eventually become united and be able to work towards the ultimate goal."
Thursday night's result came after three candidates–lifetime Clay County resident Strong, Maryville, TN native James Ratledge, and Darrell Treece of Columbia, KY, were interviewed and board members again hit a roadblock in voting.
First vote
With the interviews complete, the board voted for each individual candidate. The first round saw Ratledge eliminated, Strong receive a split vote, and Treece get six 'yes' votes–which was one shy of the seven required to be hired at that time.
Chairman David West and fellow District 3 board member Todd Lynn, District 5 representatives Nathan Sherrell and Jerry Eads, and senior District 4 board member Dick Roberts gave their support to Strong, while Senior District 2 board member Russell Cherry, vice-chairman Anthony Smith from District 1, Veda Hix (District 2), Annette Smith (District 1), and District 4 representative Heather Hammock voted 'no' to create the five-to-five split.
Treece got a 'yes' from both Smiths, Hix, Cherry, Hammock, and Roberts, but West, Lynn, Sherrell, and Eads voted no.
The voting round left the board in their familiar deadlocked state and sent them scrambling for answers.
"Do we want to appoint someone for an interim position?" West posed to the board. "We need to be moving forward with this."
Eads brought up the fact state law says a director can't be appointed 45 days prior to an election.
"We've got to at least appoint an interim, because we've only got April and May left," Eads said.
West agreed and a long pause of silence ensued, but was soon broken by Hammock.
"We're all adults here… I will change my vote if somebody else will," Hammock declared as she scanned the seated board members. "I think it's ridiculous that we've dragged this out so long."
Hammock's statement drew a round of applause from the audience, but no comment from board members.
Second vote
With no willing parties speaking up and after another silent period, Roberts proposed another vote.
"Let's call the role again and see if somebody is going to change their vote," he told West.
West read the names and Hammock joined Strong's solid five to give him six, but both Smiths, Cherry, and Hix remained a foursome on the 'no' side.
Treece got the same six-to-four result with those voting 'no' for Strong, Hamilton, and Roberts making up the six in favor and Lynn, Sherrell, Eads, and West voting 'no.'
Cherry and Chitwood
decline interim offer
With neither candidate receiving seven votes to be hired, the board again took up the option of appointing an interim director.
Board member Cherry spoke first and addressed director Cherry asking him if he would be interested, even though the retiring educator had previously declined before the board started the process over back in January.
"Would you consider taking the interim position for a year?" he asked.
After several minutes of quiet consideration, Cherry uttered a soft "no," and declined the offer again.
Anthony Smith then turned to the audience and addressed longtime county educator and current central office employee Stephen Chitwood with the same question.
"You already have an in-county candidate that is more qualified," Chitwood said as he recognized Strong. "I will have to decline, but I appreciate the mention."
Collins posed
interim question
West then asked the same of current Maple Grove principal Jerry Collins.
"I wish you all could come to an agreement, because I would rather see Mr. Strong sitting up there," Collins said, amongst other comments in support of Strong.
"Well, If we can't come to an agreement, would you consider it?" Sherrell asked Collins.
As Collins contemplated his decision, Strong spoke up from the audience.
"I know what he is trying to do," Strong said commending Collins for his allegiance, "and I hate it that you people have so much hatred for me, but you need to choose someone.
"I think I'd do a good job and want this job more than anything, but you need to put somebody in this position for the sake of the children, because being in limbo like this is dragging us all down."
Collins countered by saying he thought "everyone should be working as a team" and used the Lady Bulldogs' State Championship as an example.
"Those girls had one goal and they accomplished it," he said. "We all need to get together and start working together towards one goal–thinking about the kids.
"I was hoping this man (Strong) would be up there, but I will accept it and give it my all. I will do my absolute best and that's all I can promise."
In response to his previous comments, Hix then turned to Strong and said she didn't "have anything against" him and explained she was basing her decision on qualifications.
"I can accept that all day," Strong said as those in attendance looked on.
Policy change
passes this time
As the discussion subsided, West asked the board if they wanted "to vote on this," referring to the appointment of Collins for the interim position
Roberts immediately answered.
"No, I want to make a motion to change the policy back to a simple majority (needed to hire a new director)."
The change had been previously proposed when the vote became deadlocked back in January, but did not pass when put to a vote.
Hammock voted 'no' then and the motion failed by a 5-5 vote.
Roberts' motion was to change board policy regarding the two-thirds majority, otherwise known as a "super majority," required by the local school board to hire a new director of schools citing the fact a simple majority (six out of 10) is all that is required by law to pass any other thing coming before the board.
In January, Roberts said the change could be made by the board, because the additional requirement was previously instituted by the board. He also had official documentation explaining the legality of the proposed change at that time.
Roberts' motion received a second by Eads and a vote was taken.
Needing only a simple majority to pass, the change was adopted after Roberts, Lynn, Sherrell, West, Eads, and Hammock voted 'yes' and Cherry, Hix, and both Smiths voted 'no.'
Hammock had previously voted 'no' on the change, but her 'yes' vote Thursday night allowed the motion to pass.
Strong's 6
is enough
The changing of the policy immediately led to another vote on the two remaining candidates and led to Strong receiving enough support to be hired, while Treece only got four in his favor.
The same six voted for Strong and the same four voted 'no,' but this time around Treece only received Strong's 'no' votes. The final tally showed a six-to-four vote in favor of Strong and a four-to-six vote for Treece, which was not enough.
"We have a new director," West announced drawing applause from the crowd.
"Will you start July 1st?" the chairman asked Strong and he answered with a resounding "yes."
Contract is
discussed
Strong's answer was immediately followed with a question from Anthony Smith.
"How long are we hiring him for?" he asked and he then made a motion to do so on a one-year contract.
Cherry seconded the motion and a vote was taken. It followed the same line Strong had become accustomed to and failed.
Roberts then proposed a two-year contract and it passed with the board members voting the same way as they did in the vote that gave Strong the nod as the new director.
Strong addresses
board immediately
Upon West's invitation, Strong returned to the seat he sat in many times before during the interview process and addressed the board immediately after his contract length was set.
"This is something I've wanted for a long time and I hate it that this board is divided like this," he said. "Hopefully I can prove to some of you who feel I'm not qualified for this job that you are wrong, because somewhere along the line we are going to have to work together.
"This school system is the most important body in this county and if we fail this county will go by the wayside. I wish things were different and I could be welcomed in by all of you and I wish this man the best (director Cherry)."
"I just want what's best for all of us."
Hammock's vote
was the difference
After voting 'no' to Strong in the first vote Thursday night and giving the same answer the first time the two-thirds policy change was proposed months ago, Hammock became the swing vote handing Strong the appointment.
"Both of the candidates were well qualified for the job, but we had to get this over," she said after the meeting when asked why she changed her vote. "Like I said, we are all adults, and there was no reason to drag it out any longer and wasting taxpayer money.
"I'm glad it's over and we can now move forward for the kids."
See more details about the meeting in next week's HORIZON.