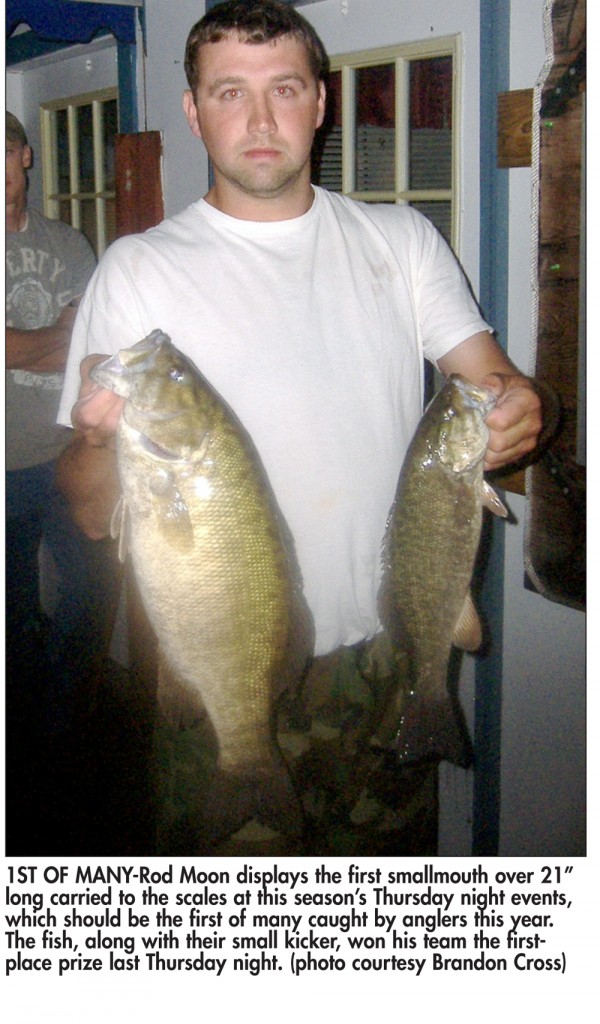 CELINA-Despite the threat of thunderstorms, 18 boats showed up here at Dale Hollow Marina last Thursday night for the weekly smallmouth-only competition and one team's rain-soaked night turned out to be a good one.
Rod Moon and Jason Gibson braved the weather to bring in the first good sack of the year, which included a bronzeback over 21 inches long weighing 4.23 pounds.
They paired their big fish with another under the 16-inch mark to total 5.87 pounds and take home the top prize of $144.
More than half the field carried fish to the scales, but Moon and Gibson had the only one over the top-side of the slot limit.
Billy Gardner and Jonathan Spears had the heaviest limit of small fish weighing 2.96 pounds, which handed them second place and $108.
Star Point tournament director Randy Roysden and his partner Jeff Warden weren't far behind with 2.94 pounds.  They just missed the runner-up spot by the smallest of margins, but they did claim the third-place prize worth $72.
Taking the final paid position was Raymond Manis and Todd Stephens with two smallmouth under 16 inches long weighing 2.88 pounds.  They pocketed $36.
Several other boats had a pair of small fish, making for a busy weigh-in.
The series is again featuring a "big fish of the year" pot and 38 anglers have already signed up for the chance to win the additional money at the end of the year.  The entry for the pot is $10 per person.
The tournaments start at 7 p.m. and participants return to a 11 p.m. weigh-in.  The entry fee is $20 per boat.  For more information about the competitions, call Steve at 823-5746 or Jeff at 823-4233.
Local Smith duo
claims Star Point
victory last week
BYRDSTOWN-Thursday night tournament co-directors Steve and Jeff Smith traveled up the lake last Saturday night and claimed victory here at Star Point Resort after weighing in the only smallmouth over 21 inches long in the 26-boat tournament.
The Smith brothers' big fish weighed in at 4.44 pounds and they paired it with another under 16 inches long to total 6.04 pounds and carry home the $416 top prize.
Rod Moon, who won a tournament earlier in the week (see related story above), and Travis Parrott took second with a pair of small fish totaling 3.62 pounds.  They won $312.
The third spot went to Robbie and Billy Joe Johnson.  They also had a pair of smallmouth under 16 inches long weighing 3.56 pounds and won $208.
Claiming the final paid position was Blake Smith and Daniel Abbott with 3.39 pounds.  They were rewarded with $104.
Tournament director Randy Roysden said the series would take a week off for the Memorial Day holiday and then return to action Saturday night, June 5.
That night the fishing hours will change to 7 p.m. through 1 a.m. and remain that way the rest of the season.
The tournament series is a smallmouth-only weekly competition and it features a $40 entry fee and 100% payback.
For more information, contact Roysden at 879-0555.
Watson Memorial
only 2 weeks away
CELINA-As announced earlier this month, the 2nd Annual Kevin Watson Memorial Bass Tournament will be held here at Horse Creek Resort Friday night, June 4 with all proceeds from the event going to fund a $1,000 scholarship in his honor to be given to a local student each year.
The event, which is only two weeks away from blast-off, will follow the "any species" format–where smallmouth, largemouth, and Kentucky spotted bass are eligible to weigh in, and it will feature a five-fish limit adhering to lake rules.
The fishing hours will be from 7 p.m. through 1 a.m., but anglers are encouraged to arrive an hour earlier (6 p.m.) to enjoy a meal provided by volunteers in return for the participants' donation through their entry fee.
Those fishing will be competing for "bragging rights" and the chance at first, second, and third place trophies, but 100% of their $50-per-boat entry fee will be used to fund the honorary scholarship.
Watson lost a battle with cancer at the age of 41 last year, leaving behind his wife and three young daughters.  The inaugural event was held to benefit the family and this year's tournament is being organized to forever honor Watson through the annual scholarship.
Turkey season
breaks records
NASHVILLE-Tennessee turkey hunters have shattered the record for the spring harvest as the 2010 season has come to a close.
The previous record for the spring season was 35,877 and this year's mark is 36,781 and that number is expected to increase as reports continue to trickle in to the Tennessee Wildlife Resources Agency.
The spring turkey statewide season came to a close on May 16. The harvest totals represent an increase of more than 4,700 turkeys from the 2009 totals of just over 32,000.
Maury County and Montgomery County, which had entered the home stretch of the season as the statewide leaders, kept their momentum to finish first and second. Maury County had 1,022 birds harvested with Montgomery having 958.
Henry County was third with 886, followed by Greene (877), Dickson (845), Sumner (820), Giles (787), Rutherford (774), Hawkins (729), and Marshall rounded out the top 10 (699).
•
If you have something you would like to see discussed in the Outdoor Notebook or have a picture of your trophy for publication, please contact Thomas Weaver at 243-4710 or email:  [email protected], or drop them by the HORIZON office just off the square.  Pictures will be returned.