By Brian Grossman
for Dale Hollow Outdoors 
Summer is in full swing, and for many folks that means spending their free time relaxing by the pool, having bar-b-ques with friends, or for those of us with kids – spending long days at the ball park.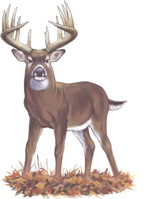 For the diehard bowhunter, though, this is the perfect time to get ready for the upcoming deer season.  While September may seem a long ways off, it will be here before you know it, and the last thing you want to do is let it sneak up on you unprepared.  Let's look at three very important things you can start doing now to insure that you are ready to fill that tag come opening day.
Hang trail cameras
Probably no single "gadget" has changed the way we scout more than the digital trail camera.  When placed along trails or in feeding areas, they give the hunter great insight into the quality of deer in the area and their travel patterns on a particular property.  If your state allows it, then placing shelled corn in front of your camera is a great way to really pull the deer in for a close look.  Keep the corn in one location for a couple of weeks, and then move it to another to get an idea where activity is the highest.  You'll quickly find that checking the cameras is an exciting pastime all in itself.  Not to mention the fact that knowing you have a good deer in the area makes it a lot easier to spend those long hours in the tree stand!
Hang stands and trim shooting lanes
Using knowledge from previous years' hunts, as well as that gained from the trail cameras, you should start to have an idea of where you would like to hang some tree stands.  Even with deer season several weeks out, you will want to minimize your disturbance to the area.  This means hanging the stands when deer activity is low – midday for stands near feeding areas and nighttime if you are hanging a stand near a bedding area – and minimizing the amount of scent that you leave in the area.  Once the stand is hung and in place, make sure you get in it and clear any branches or small trees that may interfere with your shot.  Opening day is not the time to discover there is a branch blocking your primary shooting lane.  
Shoot your bow
All this scouting and preparation won't do you any good, however, if you can't make the shot when the moment of truth arrives.  That is why July is also a great time to knock the dust off the bow and start flinging a few arrows.  Before you get too serious, though, give your bow a thorough inspection to make sure it's not going to need any work prior to deer season.  Look for worn servings, strings and string loops.  Make sure your sights, rest and other accessories are tight and in working order.  This is also a good time to tend to any arrows that may need to be refletched.  Once you have assured that your equipment is in good shape, then it's time to get out and start practicing your shooting.  The closer you can simulate actual hunting conditions, the better off you will be once the season rolls around.
If you're a bowhunter that hasn't started preparing for the upcoming season, then what are you waiting for?
With the season just a couple of months away, there is no better time to start low-impact scouting, hanging stands, trimming shooting lanes and shooting your bow.  When that big buck steps into your shooting lane opening morning and you put a well-placed arrow through the vitals, you'll be glad you did!