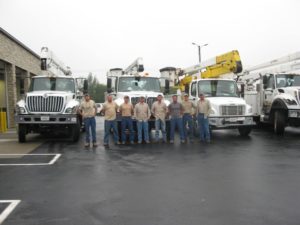 LAFAYETTE-Eight Tri-County Electric linemen and four bucket trucks recently headed to Clarkesville, GA to help Habersham EMC restore power to nearly 10,000 members, following damage from Hurricane Irma.
Adam Borders, Alan Carman, Anthony Carter, Casey Cole, Holden Pitts, Kolby Sullivan, Brad Wood, and Tim Wooten were the Tri-County linemen traveling to help others.
"Tri-County Electric is proud to have employees willing to help neighboring cooperatives restore power to their member-owners – it is the cooperative way of doing business!" Executive V.P. & General Manager Paul Thompson said.
Tri-County Electric also released their Seelbach contract crews to assist in power restoration in Florida and Georgia.
Tri-County serves electric customers in Clay County.