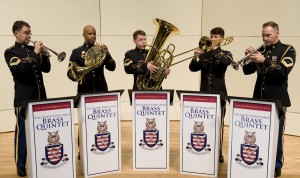 COOKEVILLE, Tenn. (March 16, 2011) — The U.S. Army Brass Quintet will present a free concert at 7:30 p.m. on Tuesday, March 22, in the Wattenbarger Auditorium of Tennessee Tech's Bryan Fine Arts Building, located on Dixie Avenue.
"This is a truly remarkable ensemble," said Dr. Joshua Hauser, TTU trombone professor.  "The U. S. Army has one of the finest music programs in existence, and the opportunity to hear these musicians live in Cookeville is not one to be missed.  I look forward to their performance and hope that you can join us."
Since its inception in 1972, the U.S. Army Brass Quintet has performed for a wide variety of audiences and dignitaries in 39 states and 12 foreign countries.
An element of The U.S. Army Band "Pershing's Own" in Washington, D.C., the U.S. Army Brass Quintet performs at the White House and at such televised national events as presidential inaugurations and official state ceremonies in the nation's capital.
The ensemble has been selected repeatedly as the first to honor new presidents with the traditional "Hail to the Chief" on live national broadcasts.
The Army Brass Quintet frequently performs for special events hosted by the Secretary of Defense, the Secretary of the Army, and the Army Chief of Staff, as well as ceremonies supporting the Military District of Washington.
The U.S. Army Brass Quintet ha
s entertained nation-wide audiences with its performances on National Public Radio, NBC's "Today Show," the CBS "Sunday Morning Show," ABC, Fox TV, CNN, TNN, "Larry King Live," as well as international audiences on the BBC.
It has also performed on a wide variety of local and regional broadcasts, such as WCBS in New York. Recently, the Army Brass Quintet found itself performing the National Anthem for televised Major League Baseball, NBA, and NHL games as well as NASCAR races. It has even been featured on the Food Network.
The repertoire for the ensemble includes more than 500 selections from all eras and genres of classical music, as well as a variety of popular music, interactive entertainment, video, and works for children's concerts. The Army Brass Quintet's library also includes historic music from the American Civil War, which the ensemble enjoys performing on authentic instruments. Commissioned works as well as works produced by The U.S. Army Band's arranging staff complete its repertoire.
Members of the quintet are: Sgt. 1st Class Terry Bingham and Sgt. 1st Class Christian Hinkle, trumpets; Master Sgt. Joseph Lovinsky, horn; Master Sgt. Harry Watters, trombone; and Sgt. 1st Class Jonathan Voth, tuba.