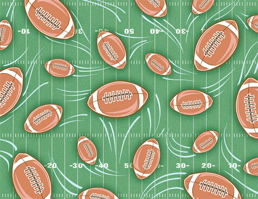 Thomas Watson again had the week's best record in the Horizon Peerless Pigskin Prognosticators and has taken a slim, one-game lead as the regular-season picking heads down the home stretch.
Watson notched an 11-4 week, one of only three double-digit win totals on the week, as the pickers fell back considerably from the week before. 
Brent Burchett and sister Teia Adams each went 10-5, and Brent caught brother Brian Burchett for a second-place tie in the process. They are a game back of Watson, while Adams and Mark Strong are now tied for fourth place, eight games back of the leader. Strong went 9-6, as did Brian Burchett.
Defending champ Michael Miller went 8-7 and is nine games back, while Gary Strong went 7-8 and is 10 games back of his brother-in-law leader.  
Following up on his perfect 15-0 mark last week, the first in panel history, Watson used a lone wolf pick of Oregon over Southern Cal to take the lead. Other top picks during the week were Mark Strong's picks of Livingston over DeKalb County and South Florida over West Virginia, Miller's and Watson's pick of Mississippi State over Kentucky, and Brian Burchett's running the table in the NFL games. 
The panelists will have two more weeks of picks to conclude the regular season, when the field will be narrowed to the top four finishers (or ties) for the "playoffs."