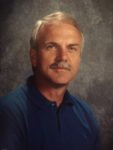 CHATSWORTH, GA-Funeral services to celebrate the life of Bill Napier were held Friday, September 29th, 2017 from First Baptist Church of Chatsworth with Dr. Mark Shaw and Dr. Alan Price officiating.The family requests that memorials be made to Bill Napier Scholarship Fund C/O Cohutta Banking Company 211 South Third Avenue Chatsworth, Georgia 30705.
William "Bill" Napier, of Chatsworth, took his place on the coaching staff of Heaven's team September 26th, 2017 at the age of 60.
Bill played basketball and football at Celina High School. He signed a scholarship to play football at Tennessee Tech where he met his little bride, Pam Napier. Bill was diagnosed with ALS in 2013 and soon after began texting Bible verses and inspirational Christian messages each day to over 400 people until the day he passed away.
He was preceded in death by his parents Billy J. and Edwina Napier. He is survived by his wife Pam Napier; sons Billy (Ali) Napier, Matt (Casi) Napier, Kurt (Tiffany) Napier; daughter Whitney (Jamal) Releford; grandchildren Jett, Bear, Annie, Sammy, Charlie and Reghan; brothers Jack (Mara) Napier, Don (Natalie) Napier; sisters Betsy (Merrill) Holtam, Linda (Jerry) Strong; and many special nieces, nephew, cousins, and other relatives.
Arrangements by Jones Funeral Home, Chatsworth, GA.